Graphic Design: Your Ultimate List of Tools and Resources
We can't do what we want to do without the aid of tools. Chefs employ fire to conjure up gastronomic wonders in the kitchen. Playing an instrument is an essential part of the music. A bridge that allows people to travel between two points in suspended space must be built using the correct tools and materials.
Visual art designers, such as graphic artists, require more than natural aptitude and skill to produce their work. Graphic designers use simple and advanced graphic design tips and tools to capture the constantly altering patterns and colors they see in their heads. 73 percent of firms are willing to invest in graphic design to stand out.
Even if there is a great demand for graphic designers, it is essential to note that there is a lot of competition to beat, which results in about 40% of new designers quitting the business after just two years. The instruments of graphic design tips have changed drastically over the centuries, beginning with Renaissance brushes and progressing to electronic styluses. Audiences and buyers of visual art agree. You must master a wide range of abilities and become adept in graphic design tools to succeed in today's digital world as a successful graphic designer. Even graphic design schools are becoming more accessible and essential for a good education on the subject.
Many options exist, but these 22 critical tools for graphic designers who want to unleash the next generation of visual experiences are an excellent place to start.
Books
We have a copy of one of the first graphic design books we recommended reading, Thinking with Type, and occasionally refer to it. The book's design enhances its usefulness by providing beautifully drawn examples of how to apply the topics addressed in the book.
Ellen Lupton provides specific and detailed instructions on how to align, space, order, and shape letters, words, and paragraphs. The book covers all aspects of typography, from typefaces and type families to kerning and tracking to the use of grids.
Second on this list is Ellen Lupton's Graphic Design Thinking: Beyond Brainstorming. In Graphic Design Thinking, Lupton, the design curator of the Cooper-Hewitt National Design Museum in New York, draws on her expertise and those of industry leaders.
To come up with creative and practical solutions, graphic design thinking uses a range of strategies to encourage new ideas. Various visual examples and case studies follow a short narrative text to clarify each process.
We see pieces for Saks Fifth Avenue, The New York Times, and Yale School of Architecture in this retrospective of Michael Bierut's graphic design work. Bierut's design philosophy is explained in the context of 35 of his creations in the book How to.
Each step of the graphic design process, from historical images, to early sketches, to working models, to the finished product, is explained by the artist in his voice through various media. It is revealed in the book that the author has a personal and professional life as well as obstacles he and other designers face in making fresh ideas available to a broader audience.
We highly recommend Work for Money, Design for Love to anyone starting in the design industry, especially as a freelancer. In his book Work for Money, author David Airey covers the business side of design.
Internationally renowned logo designer David Airey, the author of Logo Design Love, offers a refreshingly plain guide to the challenges many designers confront when they first strike out on their own. In this new book, he finally addresses their serious challenges using tales, case studies, and sound advice garnered from his experience and that of well-known designers.
You can use Graphic Design Rules to improve your designs, whether you're a student or an experienced artist. Clear-cut instruction on everything from typography to developing page layouts is provided in this article.
This colorful compilation of design dos and don'ts is full of practical guidance and walks readers through 365 guidelines like understanding when to utilize a modular grid—and when to chuck the grid out the window. These talented authors, who draw on years of experience to help you produce beautiful designs, will be appreciated by all designers.
Websites
Dribble, the company that poses the greatest threat to Behance's market share, is yet another excellent portfolio website that creative professionals use to exhibit their work, network, and look for employment prospects. Since the user interface of this platform is intended only to provide "snippets" of projects, you will frequently find links on Dribble leading to the whole project presented on Behance. Dribbble, on the other hand, is an excellent platform for sharing work in which attention to detail is particularly crucial, such as logos or individualized illustrations.
Behance is currently the most popular platform for online portfolios, enabling design professionals to share their work in various fields, including typography and interior design. However, Behance is more than just a venue to display your best work to the world. It is an ideal venue for networking, drawing inspiration from the work of others, and even discovering employment prospects through the job search area of their website. It has a fantastic user interface that enables you to search for projects by name and industry or subject.
Not only is 99 Designs a one-of-a-kind platform for freelancers, but it is also one of the oldest online design communities. They are well-known for hosting design contests, in which independent designers compete against one another to be awarded the design job of a client who has posted a pitch. In addition, 99 Designs features an excellent blog and provides a beautiful environment in which to investigate the work of others.
As a freelance designer, if you're seeking a website that gives unique websites for learning about design and an incredible opportunity to improve your skills, Inkbot Design is the perfect option for you. They have a blog where they post design-related information. There is a wealth of information for independent designers in the articles provided. Inkbot is well-known for offering 'Specialized logo composition' at a low cost. Inkbot helps you get your business off to a good start by providing graphic design skills and services. Place your order for a characterized logo as soon as you have checked all your assets.
You'll be able to come up with some great denomination names with Inkbot. The success of your business relies heavily on the strength of your company's brand. Assert your brand's personality in a memorable way on the internet. Inkbot Configuration is a complete trademark trading company for small and medium-sized enterprises that provides electronic advertising and promotional solutions. Elegant, effective websites that are simple to manage can be learned quickly. Focusing on your business while staying abreast of technological advancements allows you to do both.
Influencers
Parisian graphic designer Anthony Thiebaux, better known as Maztrone on Instagram, is a self-taught artist. Motion design, art, and typography are some of his specialties. For two reasons, he is one of Instagram's top graphic designers.
He creates a scrolling feed of revelation and contemplation on his social media accounts. Two, the graphics are incredibly fluid, fascinating, and unexpectedly smooth. Maztrone is a terrific place to start for design teams looking for a means to give life to their creatives.
Designer Cyril Vouilloz, better known as Rylsee, is based in Berlin and has worked on projects for Nike, HP, Ikea, and many more. For a variety of reasons, the Instagram account of the graphic design influencer is a treasure trove of inspiration.
But the one that stands out the most is his use of avant-garde typography. At a minimum, his lettering adds a dimension that might serve as a muse for creative teams. So Rylsee's account is an excellent place to start if you're looking for an experimental and unique perspective for creatives.
Typographer Neil Secretario joins the ranks of graphic designers worth following on Instagram. In contrast to the majority of lettering artists, his work is eloquent, refined, and full of purity that piques your interest.
The Atlanta-based left-handed designer has worked for various companies, including Condé Nast, GQ Germany, Intercom, and Lionsgate. He regularly posts lessons learned on his Instagram profile. As you scroll through the stream, you'll discover various knowledge about the creative process, from concept to completion.
Foreal, a German design studio, is the place to go if you're looking for a minimalistic design inspiration account. Clients like Google have come to rely on their eye-pleasing visuals and images. The Foreal Instagram account is an absolute must-follow if you like playful and whimsical designs.
A self-employed illustrator, Jon Contino is the creative director of Contino Studio. Instagram is a virtual portfolio for a well-known graphic designer.
What makes it stand out is the constant experimenting with a wide range of mainstream and unusual styles. If you're looking for a new perspective on branding, you should follow him.
Equipment
Large High Definition Monitor
It may seem like an unnecessary luxury if you don't have a huge, high-end display. As a result, a high-quality monitor is critical to the quality of your job. Most folks have no idea what to look for regarding exhibitions. Getting lost in the language may be tricky, we know. The resolution is still essential, with or without a 4K monitor.
The most common resolutions for graphic artists are UHD (3840x2160 pixels) and QHD (4096x2160 pixels). Regarding size, most designers recommend that you go between 27 and 32 inches. There are many options for workstation accessories, but the monitor should not be slashed.
External Hard Drive
An external hard drive is a must-have for anyone who works with a lot of data or relies heavily on external files. Hard drives have many advantages, including portability, ease of use, and storage capacity. For projects involving animation, film, or other huge files, it's critical to have a large storage capacity, even if you don't utilize them to back up your existing files. Even though they aren't specifically tools for graphic designers, external hard drives are a must for any professional designer.
Tablet and Stylus
Graphic designers often ignore tablets and pens. We overlook Wacom's limitations since it's been the leader in graphics tablets and design tools for so long. Some designers can't spend all day on their laptops. This is true for mobile designers.
Freelancers, digital nomads, and people who work "in the field" love the iPad Pro and Apple Pen. With the variety of iPad apps, they don't have to sacrifice quality for mobility. Graphic design is a creative ocean. You may construct a career and portfolio that were unimaginable a decade ago with the correct tools. Investing in the appropriate equipment helps your career and creativity.
Software Tools
Photoshop is a popular graphics application. It's been used for design and picture editing since 1988. The broad spectrum of creative professions uses it for picture resizing, retouching, illustrations, digital art, and photo manipulation. Photoshop's user-friendly interface, editing capabilities, and online tutorials make it ideal for beginners and pros alike. Photoshop tutorials, courses, and learning tools can help you master its complete control and creative capabilities.
Removal. is powered by a cutting-edge Artificial Intelligence system. AI is one of the most user-friendly free online photo editors for amateur and professional photographers. This picture editor is not only simple to use, but it also has a plethora of photo editing options. Image background removal is its primary function.
However, with the easy photo editor, you can do far more than removing the backdrop. All you need is a simple photo editor to change the photo's background to white or any other color. With its ease of use, it can handle a small number of photographs, up to tens of thousands.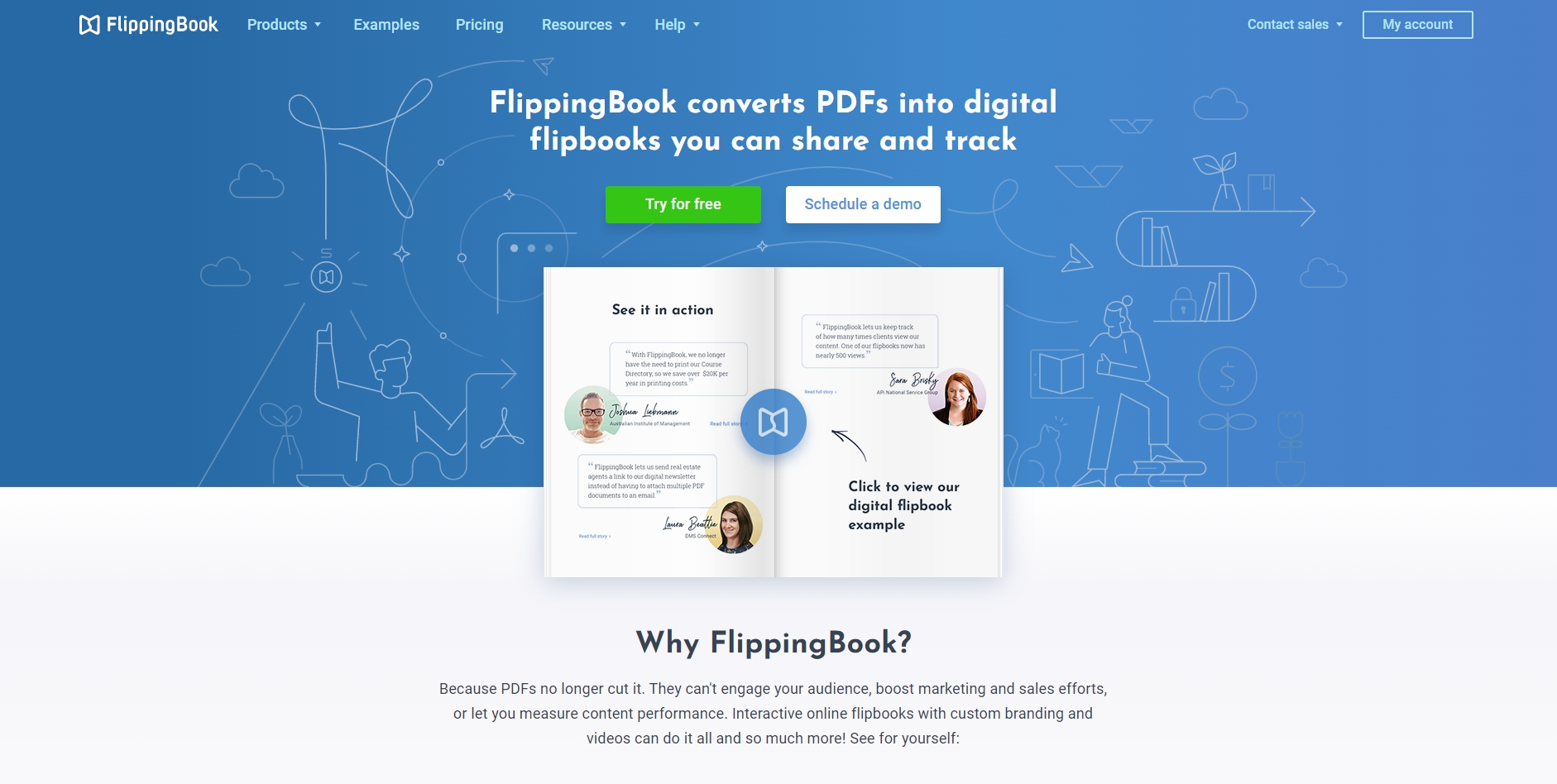 FlippingBook is professional software that converts PDFs into branded flipbooks in just a few clicks. With this tool, you can draw attention to your brand by turning static PDFs into interactive HTML5 publications with smart design, custom color palette, clickable logo, branded links, and more.
Branded flipbooks help create a consistent brand image and differentiate you from your competitors. You can make branded documents that will match your corporate style: from your own background and color palette to your company logo leading directly to your website. Thus, your content will be instantly recognizable on the web.
For the first time, both Photoshop and Affinity Photo are available for iPads. Procreate, on the other hand, is perhaps the most outstanding graphic design skills program if all you need is a few drawing tools and nothing else. It's no surprise that Procreate has a stellar reputation in the art world. It has a plethora of Procreate brushes and valuable features like QuickShape, which automatically creates precise shapes, and StreamLine, which smooths out your jerky strokes. Filters can also be painted directly onto the canvas. This is a must-have iPad app at a lower price than Affinity Photo. Even if you don't have an iPhone, you should check out Procreate Pocket(which opens in a new tab).
Adobe Illustrator is the industry standard for vector drawing, design, and editing. As a standard in the business, it allows users to generate everything from digital art to typefaces to logos. Using Illustrator, designers have complete creative control and access to a wealth of shortcuts to expedite their work processes.
Pink Pony Creative co-founder Kristy Campbell said, "I'm a big fan of Illustrator since it's so versatile, but I'd have to say that for branding, Illustrator is my go-to." Using my Wacom drawing tablet, I've completely re-written the rules for myself." Because of the ease with which I've been able to do so much more, I've produced far better work."
It's no secret that Figma, a cutting-edge design tool, is taking over the industry. Everything from wireframing websites, designing mobile app interfaces, prototype designs, and crafting social media posts can be done with it. No strings attached. Designing projects can be made more accessible using Figma's vector, prototype, and code-creation tools.
Even more tools you can discover in this huge archive with over 1000 design resources. Toools.design is very well organized in 18 categories and over 90 subcategories and features the latest design tools on a weekly basis.
Visme is a visual content creation tool that lets you create infographics, presentations, animations, and other forms of visual content. Visme is easy to use, yet can be used to create professional-looking assets with little to no design skills.
Visme combines simplicity with flexibility. A large collection of templates and visual elements that can be included, allows you to create engaging visual content.
Conclusion
As you begin your career as a graphic designer, we hope you find our list of resources and tools helpful. Whether you're trying to find inspiration or preparing your workspace, you must ensure you have everything you need to succeed.
Featured Image by Theme Photos on Unsplash